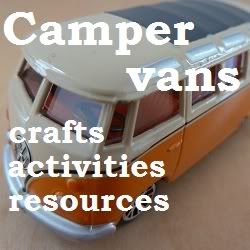 A camper van is simply a vehicle which is used both for moving about and sleeping in. They are sometimes also called motorhomes, although a motorhome tends to be larger and perhaps with a toilet or a divide between the cab and the living areas. The classic campervan was manufactured by Volkswagen, and it's these which most interest my toddler. You don't see many of these classic camper vans about, but my son will always point one out when he sees one. I think that it must be the fascination of a vehicle which is also a home.
Campervan crafts
Several more campervans to colour
. You don't need to stick to colouring the pictures of course, you could use coloured scraps of paper or fabric to make a collage, and bling it up with glitter and sequins.
Campervan activities
I'm still on the lookout, do you have any to share? Contact me via my About page above!
Campervan books
Junior the Little Blue Campervan
- Stories all about a little campervan that has lots of adventures.
The Kludoman Camper Van Colouring Book
- A detailed book for colouring which would also be enjoyed by older children. The pages are one sided so you can take them out of the book and display your camper van art!
Campervan toys
Playmobil 4859 Family Camper
- We had the Playmobil campervan when I was little and I loved it. Like with all Playmobil products the attention to detail is fantastic.
Daisy Roots Blue Camper Van Baby Shoes Soft Leather (Size 12 to 18 months) Delivery FREE in the UK
- Not a toy, but gorgous little baby and toddler shoes with a lovely camper van picture.