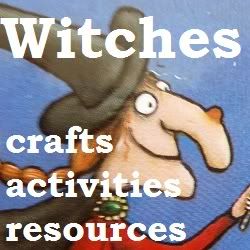 Witches don't need to be scary, you can still have witch fun with young toddlers! Witches aren't just for Halloween either, you can easily dress up as a witch to cast spells and make potions and there are lots of fun witch crafts and activities that you can do with toddlers and pre-schoolers.
Witch crafts
Make a really
simple witches hat
from a paper plate and an old party hat or cone from cardboard.
Use this
printable witch
to make a witch wall decoration.
Make a
miniature cauldron
from a jam jar or small plastic tub.
Use a wooden spoon to make a simple
wooden spoon witch puppet
.
Witch activities
Make up some magic potions. Find a large container for the cauldron then make a potion using things from around the kitchen. Or even better in the garden with water, mud, grass, leaves, flowers and so on. If you want to end up with something edible, make some witch's soup and come up with suitable magic names for the ingredients.
Bake some
witches cauldron cakes
with green jelly.
Witch books
Room on the Broom
- One of my son's favourite picture books featuring a witch and lots of animal friends.
Meg & Mog
- I remember Meg the witch from when I was little, this is one in a series of classic stories about Meg and Mog the cat.
What's in the Witch's Kitchen? (Lift the Flap)
- A lovely lift the flap book for young children.
The Witch with a Twitch
- A lovely story about a witch.
Winnie the Witch 6-in-1 Collection
- Witch stories for older toddlers.
Witch toys
Witch Tellatale Hand Puppet
- Puppets are great for telling stories and helping children learn to deal with real life situations. There are lots of stories that you can tell where a witch puppet will come in handy!
Scary the Witch - TY Beanie Baby
- A sweet little witch doll.
Childs Halloween Costume Lil' Witch
- A lovely costume for your little one to dress up as a witch.
Witches Broomstick
- A witch costume is quite easy to put together yourself, so if you just need an accessory this broom can easily complete the outfit.